Go digital and start cutting costs in 5 minutes with RS Production OEE
2 Machine measuring points

1 RS BlackBox Machine Connector (24V)
RS Production OEE
Advanced
Need more machines or other features?
RS Production OEE gets you started in 5 minutes
Throw away your spreadsheets, pencils, and paper. In less than 5 minutes, you can start improving your equipment efficiency using the new RS Production OEE software. Get the insights needed to cut production costs, get real-time control, and use less resources per unit produced. That's both more economical and sustainable.
Our 20-year expert experience makes sure your production teams get the best digital tool available to improve production efficiency. The new RS Production OEE software provides several ready-to-use reports, an easy-to-use interface, and guides you through setup and configuration. The best part is you pay-as-you-go. And the first 60-days are free.
You don't need to make heavy investments or provide lots of training to go digital with RS Production OEE. Install, configure, and start finding cost-savings in less than five minutes. In this short video our expert shows in real-time how to get started from scratch.
Reduced production costs

Use less resources per produced unit

Take control over your machine time

Increase machine throughput
Get real-time insights with ready-to-use reports for daily meetings, improvement work, production management, and much more.

Expand to more functionality and scale to more machines and factories when you need.

Go digital quickly with guided setup and configuration.

Easily collect production facts from operators and machines.
"We have increased volumes by 10% without making new machine investments or expanding with more shifts"

"We increased net production by up to 15% in certain production sections without extra machine time or personnel costs."
Take closer look at the key capabilities of RS Production OEE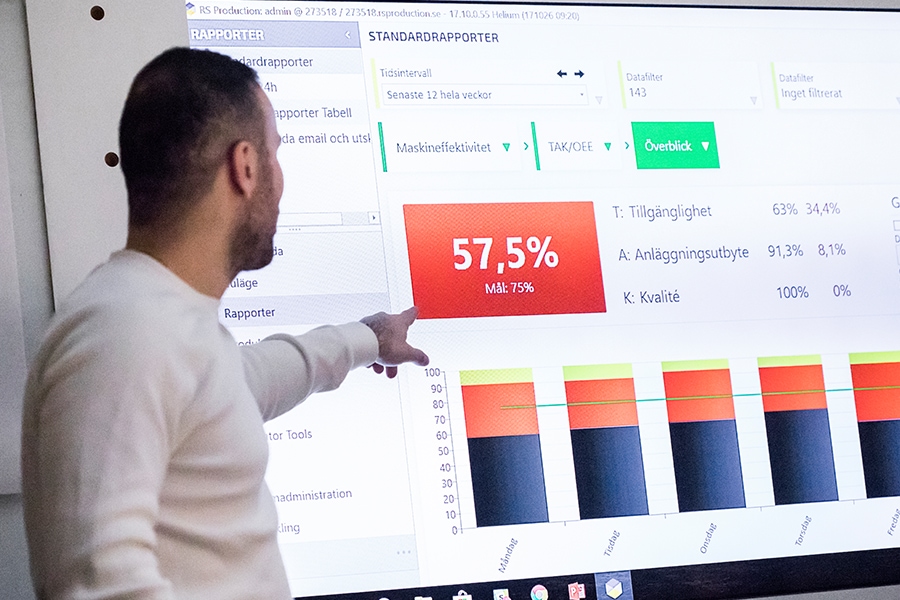 RS Production OEE automatically identifies machine time losses in real-time. Your production teams can start collecting data in less than 5 minutes using manual stop coding. The software also support automatic stop coding using standard machine interfaces such as OPC, OPC UA or 24V signals with our BlackBox machine connector.
If required, operators can then quickly add their unique domain expertise with loss codes, comments, and more using a touch screen at the machine.
The combined data from machine and operators is visualized  in standard reports designed to help your teams make better decisions faster by ensuring
quicker reactions when deviations occur,

relevant facts for daily pulse meetings,
better decision making in improvement projects.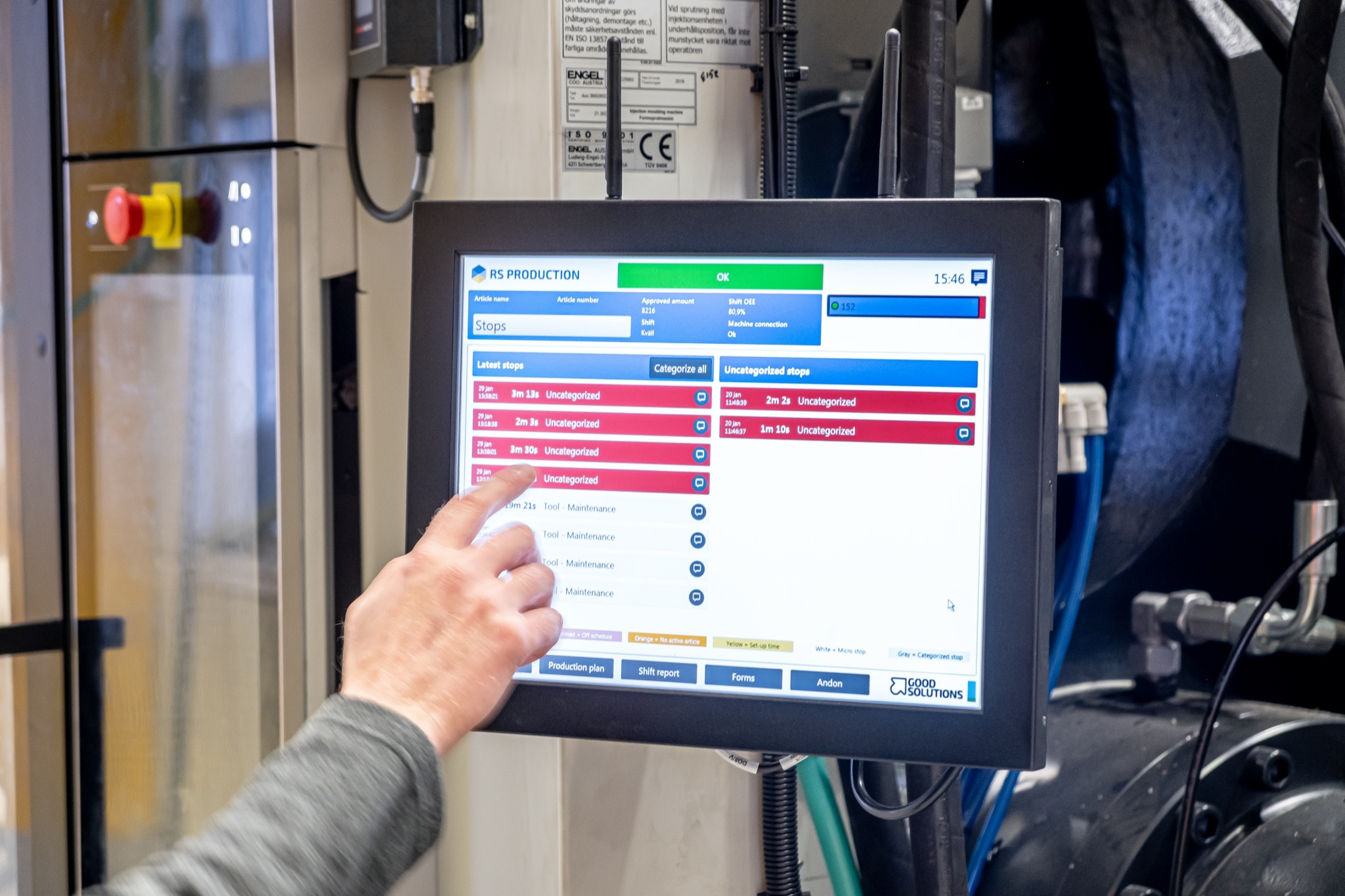 Correct loss coding in seconds
RS Production OEE is focused on ease-of-use for machine operators. A machine stop can be properly logged in just a couple of seconds.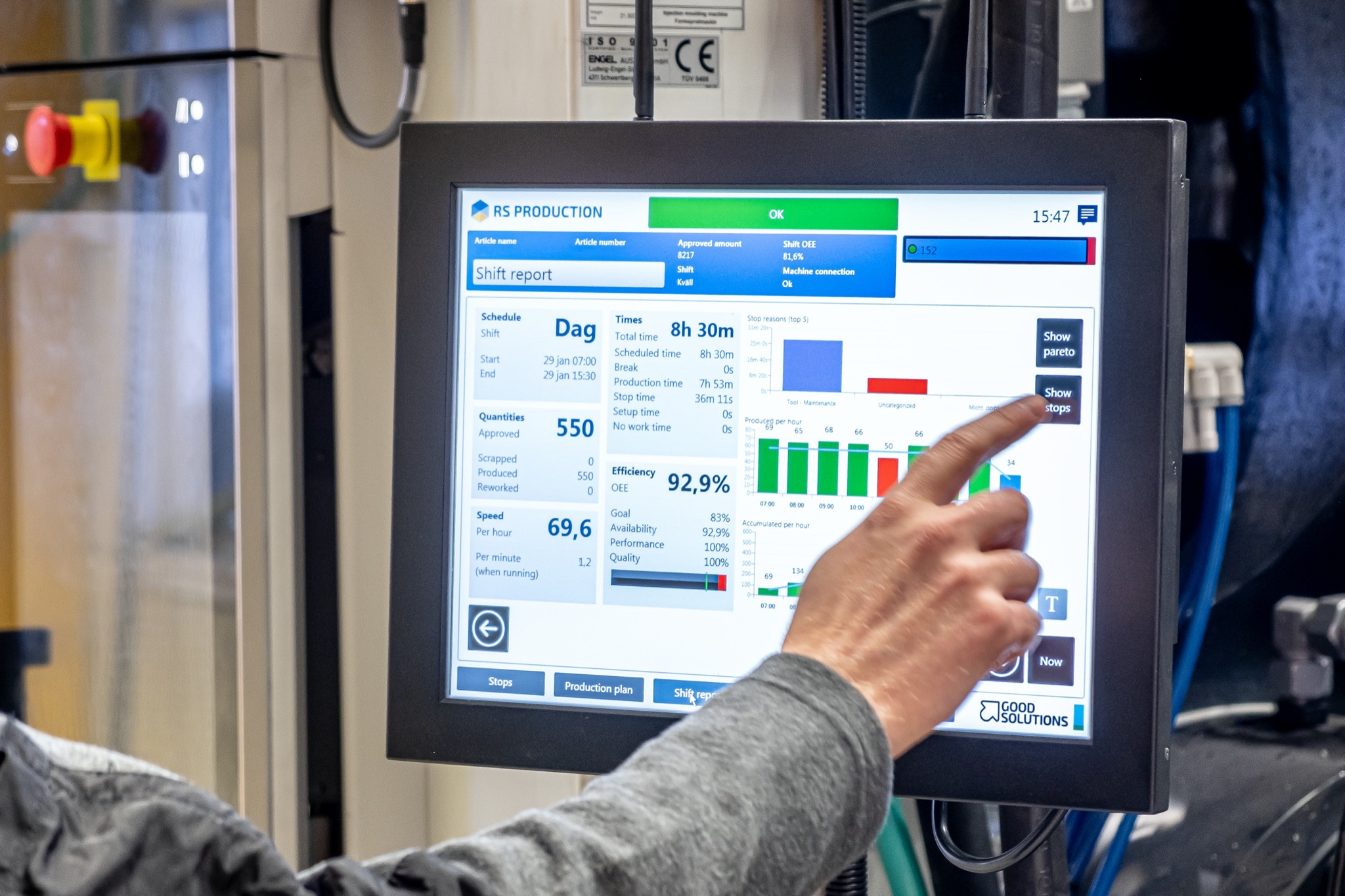 Relevant data and simplicity
Operators know exactly how the production is going compared to the plan with the standardized shift report.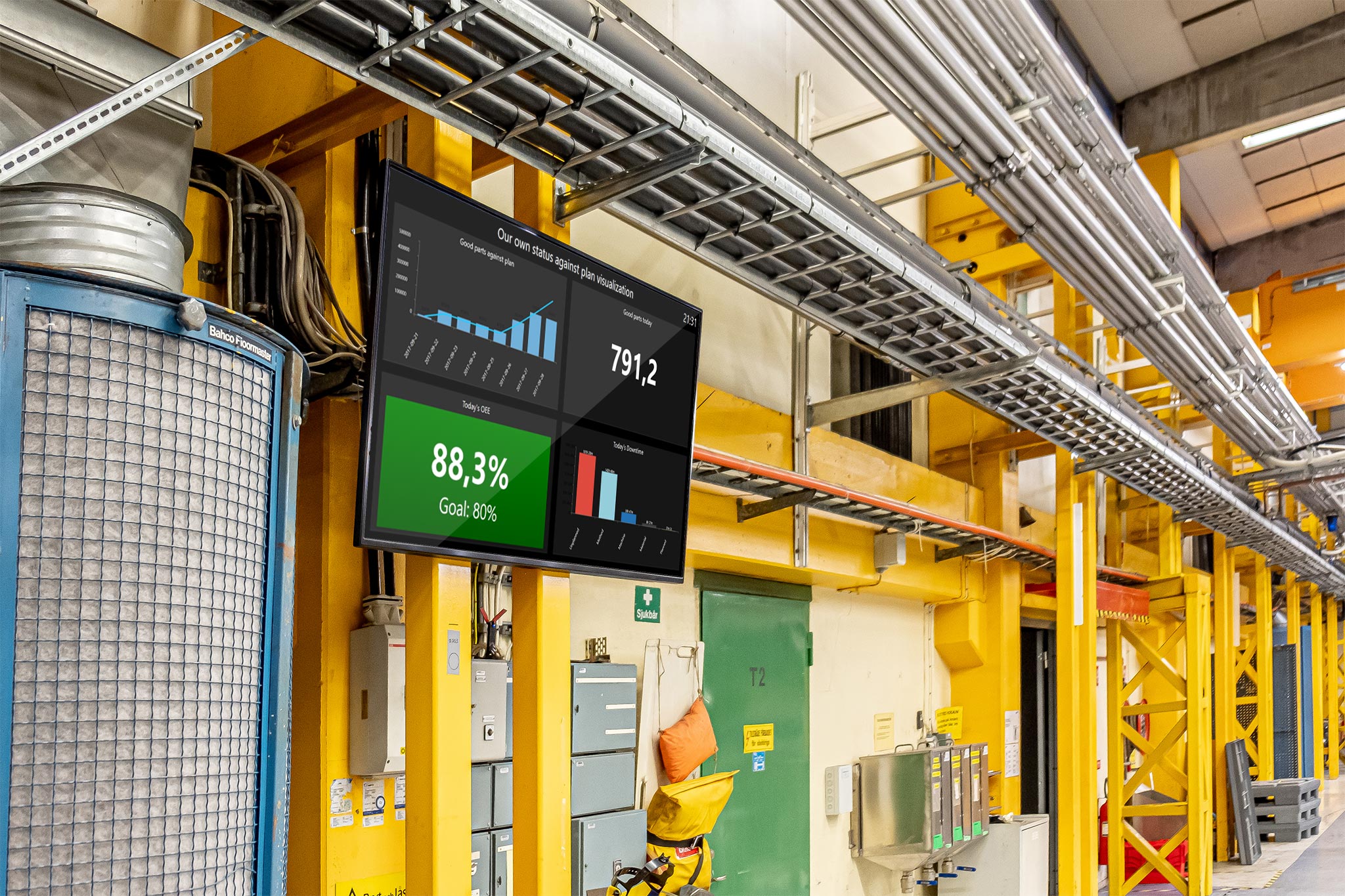 Visualize facts throughout the factory​
Real-time manufacturing status data can easily be visualized on TV-screens using RS production OEE standard features.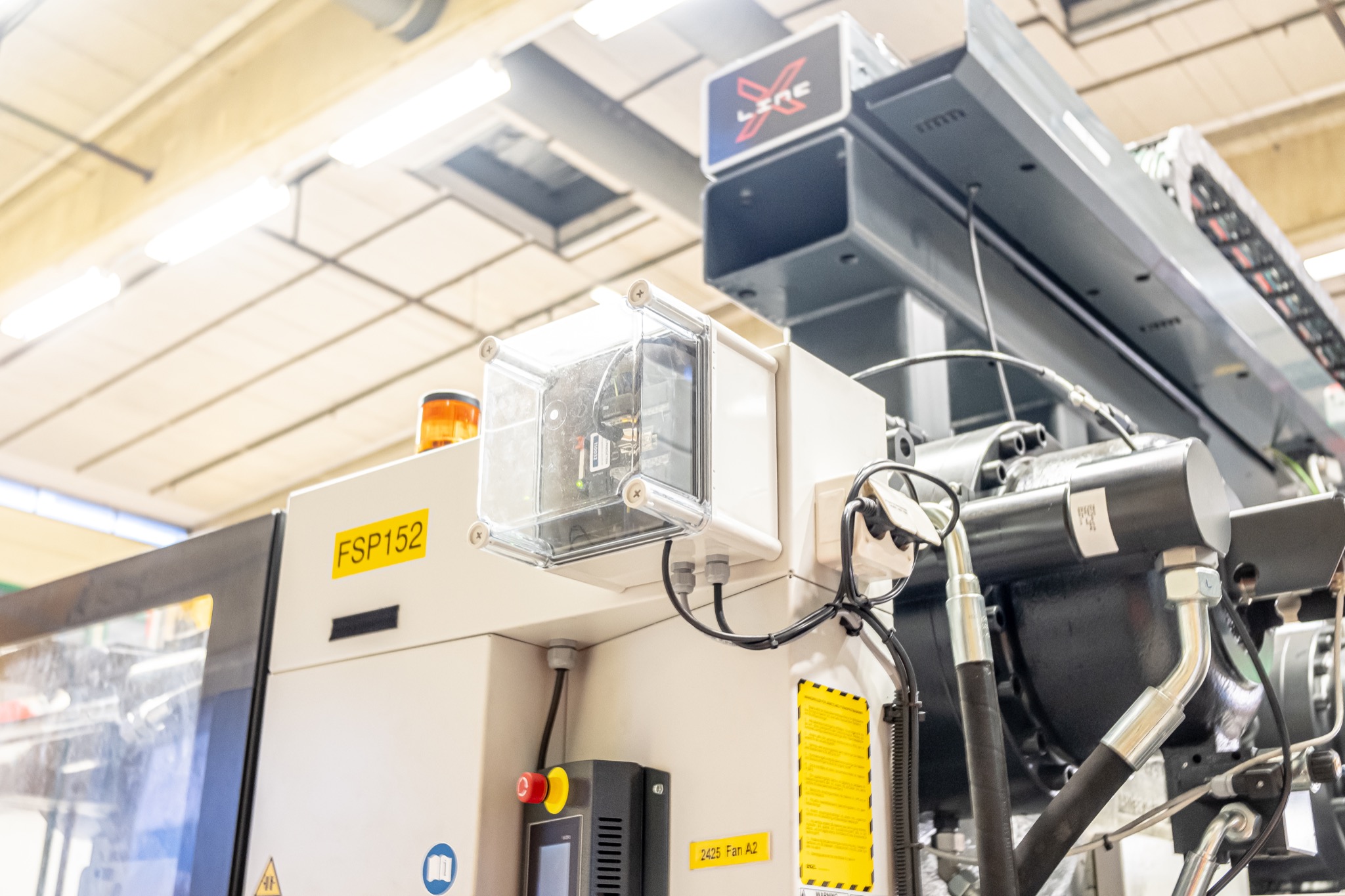 Secure and quick to get started
RS Production OEE is safe to use in your factory. The solution is trusted in hundreds of plants world wide.
Complete OEE capabilities including
automatic downtime logging
manual stop-reason coding
automatic changeover logging
speed loss coding
OPC, 24V or most common machine interfaces to monitor
uptime/downtime
production cycles and produced amounts
Follow production net-output by
produced amount
produced, scrapped, good
product/order run
production order plan
Provide operators with relevant information such as
production plans
loss coding
visual shift targets report
50+ standard reports including
pareto charts
OEE waterfall 
cycle time analysis
change over matrix
various filter and sorting
automatic report e-mails and prints
Live TV-screen dashboards
Visualize live production status factory wide using
a range of standard TV-screens
no-coding customization
25+ visual components
Live production data at your fingertips with mobile
OEE
production output
production times
messaging (chat) system
iPhone, Android, Windows support
No extra software is required to optimize production by analyzing 
OEE and losses
combine dimensions
loss drill down reports
Enable team communication inside your factory with
direct messages
message groups for relevant communications within or cross organizations
Experience from 40+ ERP systems and standard integrations to SAP, IFS, etc for.
production plans
articles/products
Support every individual with
15 languages including English, German, Spanish, Polish, Swedish.
user based language
support for local texts
Enable OEE standardization and access factory metrics on group level with
central standards (option)
central aggregation (option)
DID WE MENTION IT'S FREE TO TRY?
You got nothing to lose and everything to win. 
Register and download RS Production OEE today and start your free 60-day trial. 
More questions? We try to answer the most common below